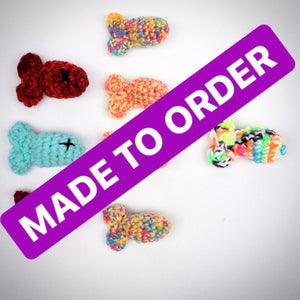 Artsy Like Whoa
Catnip Toy - Fish - MADE TO ORDER
Regular price
$8.00
$0.00
Unit price
per
Tax included.
Crocheted Fish Shaped Catnip Toys
MADE TO ORDER - ALLOW 3 - 5 DAYS FOR PRODUCTION 
The photos show examples of some catnip toys that I have made. 
When you place your order, indicate which color you would like. 
Here fishy fishy... These crocheted toys will give your cat the munchies! Carefully stitched fish stuffed with polyester fiber filling and premium catnip are delightful ways to spoil your feline. Each fish has been made out of acrylic yarn. 
I personally hand make all of the items in my shop. Unless otherwise specified, all of my crocheted and knitted items are made from acrylic yarn. If you desire a different type of yarn, please inquire as this could mean additional costs (I would buy the yarn especially for your project) and time.
———————————————————
TERMS AND CONDITIONS 
By purchasing any item from my shop, you agree to the following Terms and Conditions. Read through EVERY part of this VERY CAREFULLY. If you do not agree with any of these terms, please do not purchase.
ABOUT MY ITEMS
Each item is handmade with love. I am the sole creator of the item. No outsourcing was used in the production of this item.
Therefore, my pricing reflects the cost of materials and the time that it takes to make each item. I make sure that the quality of each product is superb and one-of-a-kind. I price my items to cover the cost of the materials, compensate for the time and effort put into the item, and providing handmade items as a reasonable cost.

ITEM DESCRIPTION AND PHOTOGRAPHS 
I make all efforts to describe all of my items in detail. You may inquire for specific details if none are present. 

All photographs were taken by me, unless otherwise stated. All efforts are made to represent the items as accurately as possible. With that in mind, the colors of items might appear different in real life than in the photographs, depending on the device used to view this website. 

In each pattern description, credit will be given to any designers who created patterns that I have used. 

If you are purchasing a custom/Made-To-Order item, there might be slight differences between the photograph/listing description and what you receive. 
CARE INSTRUCTIONS
To maintain the potency of the catnip, washing is not recommended. 
SAFETY PRECAUTIONS
Extra precautions have been taken to ensure your safety. I personally hand wash my crocheted and knitted items in fragrance and dye-free detergent. All items are stored in a plastic container until ready to ship. I wash my hands thoroughly and place your item in a shipping container or envelope. 
Items come from a non-smoking home. I do have a dog, but after I finish a project, I wash and store the project away from pet hair and dander. As described above, I make sure to wash my items before shipping.
CHOKING HAZARDS
Recommended for children ages 3 and up. This item might be a choking hazard, either in its small parts or the item as a whole.
Customer assumes all responsibility and risks for the proper use and safety of this item.
SHIPPING
USPS Flat-Rate Priority Mail shipping will be used, which comes with insurance (up to $50) and tracking. A tracking number will be provided to you as soon as I ship it.
You are responsible for giving me the correct mailing address to ship your item. I am not responsible for any items delivered to the wrong address.
With the pandemic and political unrest in the United States, there may be delays in receiving your package. If you need these before a particular time, please reach out to me for express shipping options. If it is a custom order or a made-to-order project, give yourself PLENTY of time to make sure that I can complete it and ship it before a certain time. 
RETURNS AND EXCHANGES 
For the safety for me and my customers during the COVID-19 pandemic, I will not be accepting returns or exchanges. NO EXCEPTIONS. 
CONCLUSION
By reading the above, you agree to the Terms and Conditions. 
---
Share this Product
---