News — what I'm working on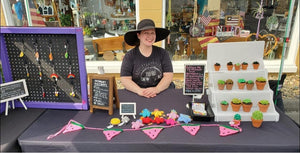 🎬 Annnd…that's a wrap for craft shows… for now! Outdoor craft shows are fun—but not so fun during the dog days of summer (yea for Virginia humidity 🥵). As you can see in this lovely photo taken by Unique Creations Studio from their most recent Local Maker's Market I am very fair-skinned (I still manage to get pink from being outside, even with a high SPF, a pop-up canopy and a sun hat). July will be busy with vacations, spending time with my family, and celebrating my wedding anniversary (12 years!). Until further notice I won't attend another craft show...
---
• sweater • what I'm working on • WIP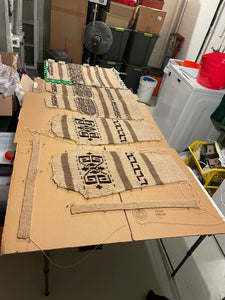 My husband is a Big Lebowski fan. He sees him as abiding The Dude. I have been meaning to finish this sweater. I started this a year ago. Might be good if I finish this before the one-year anniversary of me tackling my first sweater project.